BATTERY REPLACEMENT, GASKET AND WATER RESISTANCE TEST
BATTERY REPLACEMENT
The average battery life in hours is 1 to 2 years. Battery life depends on the age and condition of the mechanism, as well as the type of watch. If the watch is a chronograph or has additional functions, such as lunar phases and such, it will consume more energy and thus the battery life will be shorter.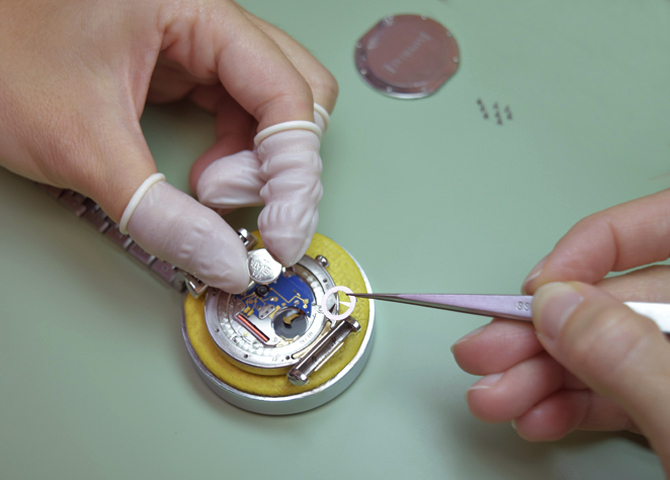 WATER RESISTANCE CHECK
Checking the water resistance of a watch is performed in a state-of-the-art device – Witschi M. This is a so-called dry test, during which a highly sensitive device measures the deformation of the housing under pressure. A water test is also used when a dry test shows that the housing is not waterproof. During the water test, a housing without a mechanism is placed in order to determine the location of the water leak (on the crown, pushers, lid, glass or bezel). The watch case is placed in the part of the device without water where it remains under pressure for about 3 minutes. If the housing is not waterproof, compressed air will enter the housing, and by immersion, small bubbles will start to come out of the housing and thus reveal which part of the housing is porous.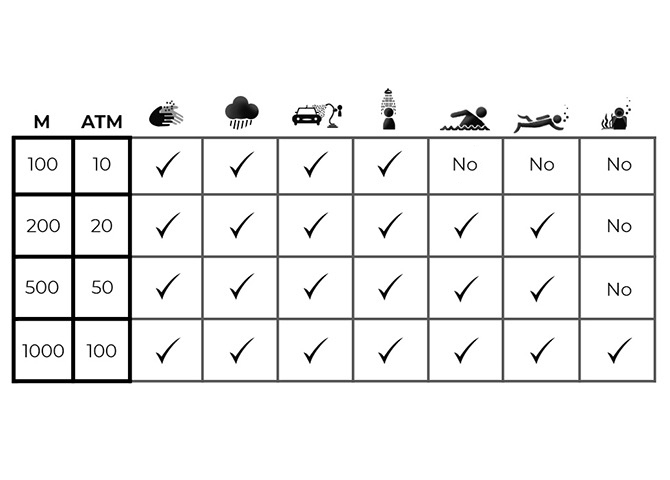 A distinction should be made between waterproof watches and diving watches. Waterproof watches should not be used for swimming and diving. The resistance of 3 bar means that if a watch becomes wet when washing your hands or dueto rain, water will not penetrate into the mechanism. Water resistance of 5 or 10 bar means that the watch is tested in a static position, which in practice implies a gradual entry into water. Swinging your hand while swimming significantly increases the pressure, so it is possible for water to penetrate into the housing, in spite of a marking that the watch is waterproof.
Diving watches can be safely used for swimming and diving. This type of watch has a crown with a thread. Whenthe watch is a chronograph, the pushers also have their own threadswhich are bigger, with better quality gaskets on the case. They have a mark which indicates they are waterproof from 200m and more. Despite all the advantages in comparison to waterproof watches, a water resistancecheck is necessary, with a change of all the gaskets in a period of 1-2 years in order for the diving watch to retain its factory characteristics.
A water resistant watch retains its characteristics only if it is regularly maintained, with periodic changing of gaskets and doing a water resistance check.